Are you a foodie or a history buff? Do you prefer a relaxing holiday, or would you rather be in the middle of a bustling area? Are you more into hiking or that afternoon cocktail? Whatever your personality or preferred travel style may be, you will find the right fit – and may even fall head over heels – with one of these Montréal neighbourhoods.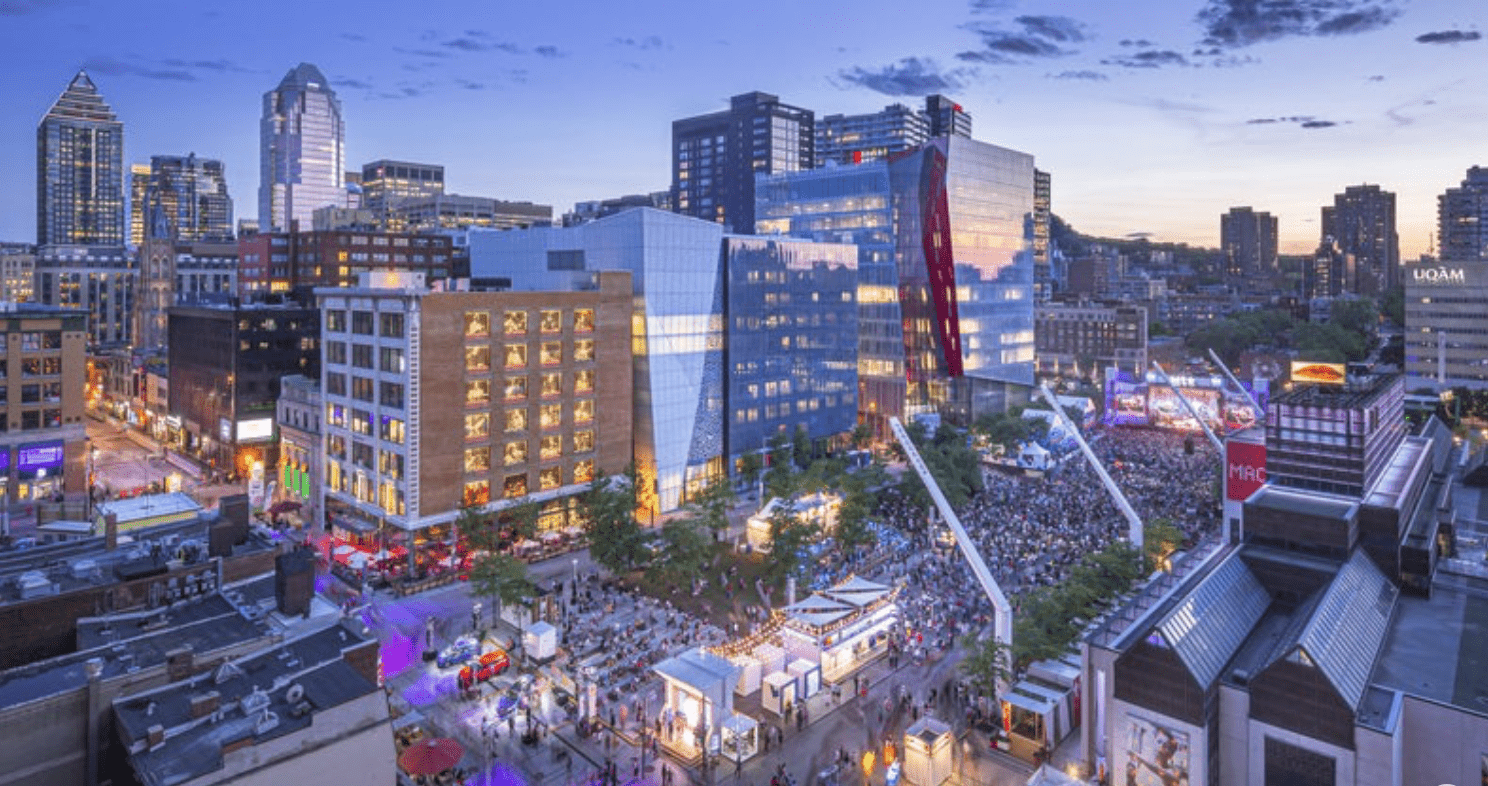 If you enjoy being in the heart of it all > Downtown
Montreal's downtown core is compact enough to be explored by foot but packs a multitude of options to discover. It's the city's financial hub but it's also home to three universities, three museums and Montréal's entertainment district, the Quarter des Spectacles, where major festivals like the Festival International de Jazz de Montréal set up stage. Shoppers will love strolling along Sainte-Catherine Street, Canada's longest commercial street. From there, it's an easy hop and skip to Montréal's oh-so-mysterious underground city, or to the top of Place Ville Marie's observatory or a 360º view. A night out on the town means catching a show at Place des Arts and dinner at one of the three spiffy new food halls.
If you appreciate the classics > Old Montréal
Most of the city's historic landmarks are packed in the charming area that is Old Montreal that often doubles as any ubiquitous European city in your favourite movies and shows. History buffs will appreciate the cobblestone streets and 400-year-old buildings, which charm and transport visitors to the very beginnings of Montréal. Zipline over the canal in the Old port, visit some of Old Montréal's great museums such as Château Ramezay or Pointe-à-Callière, stroll along Saint-Paul Street or go on a boat tour of the St. Lawrence River with Croisières AML or Bateau-Mouche. Old Montréal is also where you'll find some of the coolest cutting-edge technology, such as AURA, the great light and sound show set inside Notre-Dame Basilica, or the innovative and world-renowned Phi Centre.
If you have the soul of a bohemian > Plateau-Mont-Royal
That famous postcard of candy-coloured Montréal houses adorned with typical spiral staircases? You know the one. Well, it's shot in this bohemian neighbourhood. The Plateau-Mont-Royal is trendy, artsy and creative. It exudes a very Montréal joie de vivreand a very European way of living. Pick up a baguette from the local bakery, stop for a latte at the corner café and shop at some of the quirky boutiques. Go on a hunt for the flashiest houses or stroll down Mont-Royal Avenue, the main commercial street. The Plateau will make you feel welcome the instant you take a stroll down any of its delightful streets.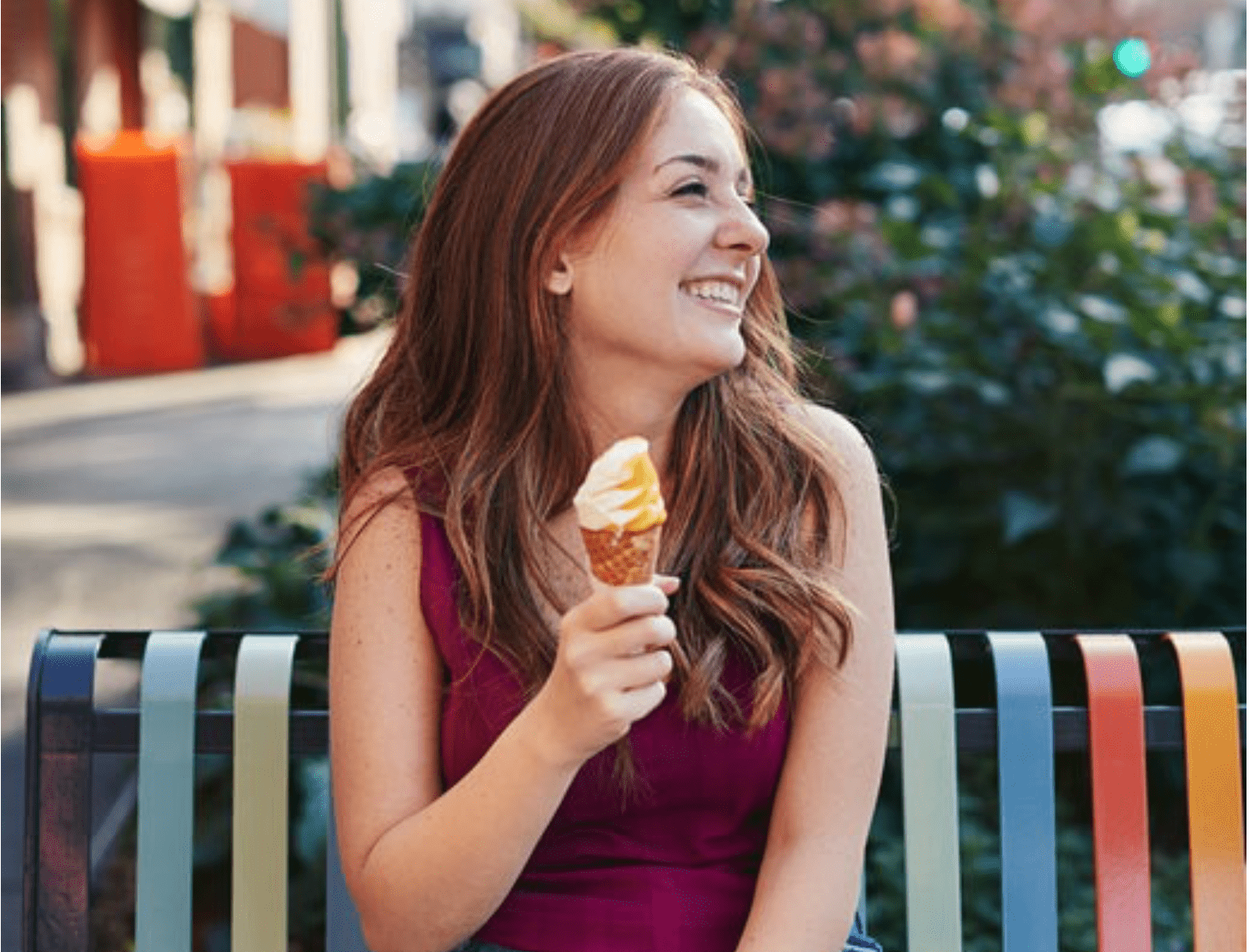 If you like hanging in the coolest neighbourhood in Canada > Mile End
Mile End is often included on lists of the coolest neighbourhoods in the world. It's a favourite among creative types working for the numerous tech industries established here and 20-something hipsters and bohemian types. It's also home to the city's Jewish Hassidic culture, which makes for an interesting contrast and a unique dynamic. A stroll around Mile End will take you from Montréal's famous 24-hour bagel shops to some of its oldest cafés, by way of popular line-up-around-the-corner ice cream shops, vintage stores and lush green spaces where some of the city's best trendsetting events take place. It's the place to taste some traditional Jewish specialties such as authentic smoked meat or baked goods. Don't forget to wander around some of its charming residential streets.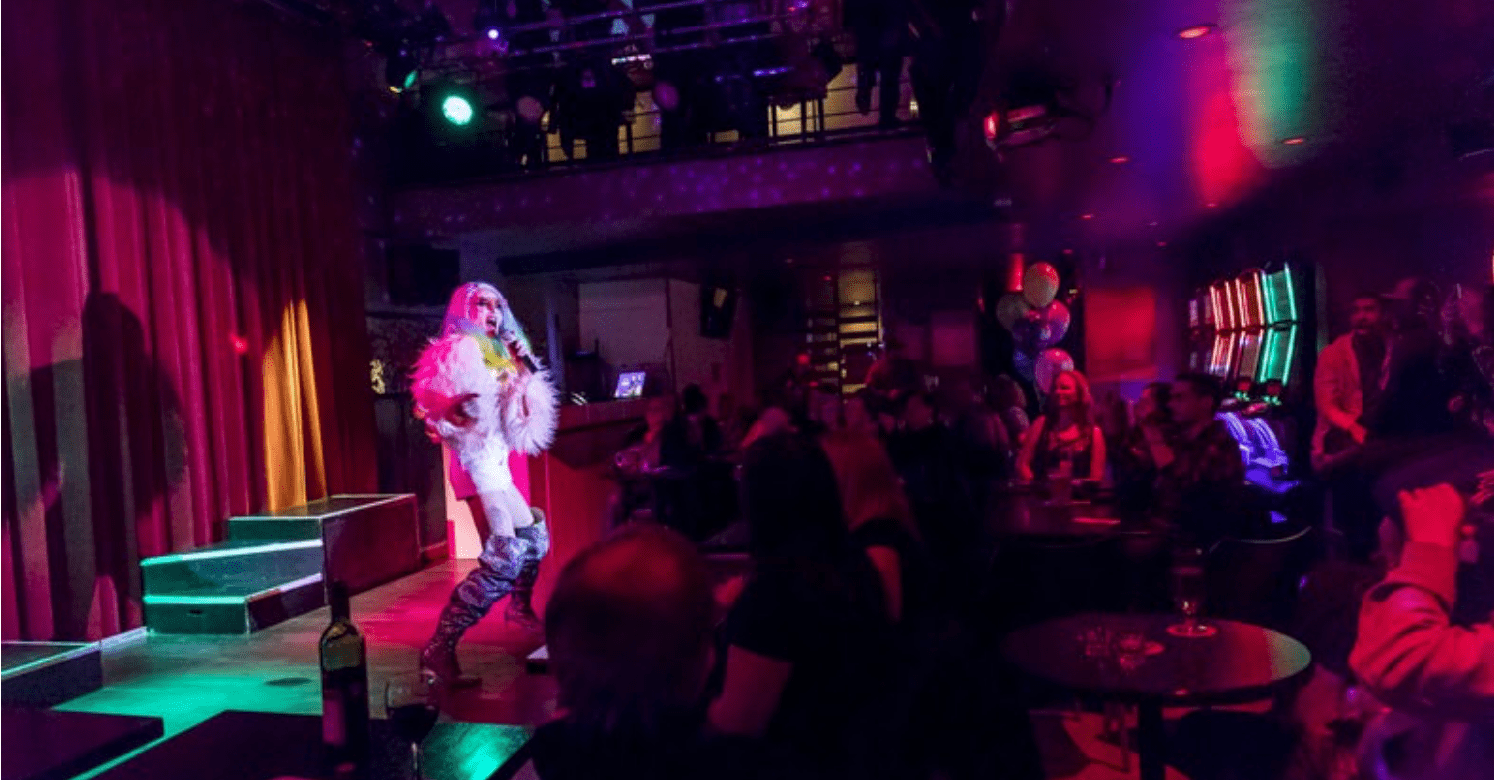 If you see the world through rainbow-coloured glasses > The Village
Montréal's LGBTQ Village is one of its liveliest neighbourhoods and the center of all Pride events. This diverse and inclusive area is one of the largest in North America. It's home to outstanding restaurants, galleries and clubs, including Cabaret Mado, the city's best drag queen bar, where you just may be able to belt out some Madonna with the pros (if you're lucky enough to be pulled on stage). The main commercial part of the neighbourhood, Sainte-Catherine Street, becomes pedestrian-only in the summer and turns into a great promenade and a perfect arena for Pride events.
If you like living the posh life > Outremont
Leafy avenues lined with handsome mansions are the hallmark of this chic neighbourhood where residential streets are a joy to stroll around. Outremont is also where you'll find some of the most beautiful parks in the city, including the Jeanne-Mance Park at the foot of Mount Royal, "the mountain", as locals call it. And while we're on the subject, the entire city revolves around this cherished mountain where you can trek, ski, skate or just drive up and gaze at Montréal laid out at your feet. If you fancy rubbing elbows with the posh crowd, head to elegant Laurier Avenue for some dining and shopping. Adjacent Parc Avenue is more laid back and offers a legion of unconventional and cute shops and eateries. While you're in this stylish area of Montréal, a visit to the grandiose Saint-Joseph's Oratory of Mount Royal is a must, as is a calming stroll around beautiful Mount Royal Cemetery.
If you want to experience life as a local > Hochelaga-Maisonneuve
This historic neighbourhood may not be as touristy as Old Montréal or as hip as Mile End, but it oozes charm and authenticity. Start with the touristy things first by visiting Montréal's famous Olympic Stadium (built for the 1976 Summer Olympics) and its inclined tower, the world's tallest. Head to the top for a great view of the city and the Space for Life museums: the Montréal Botanical Garden and the Rio Tinto Alcan Planetarium. HoMa is also home to many small bistros, quaint cafés and crafty boutiques. This working-class neighbourhood is authentic, inviting and unpretentious.
If you're a gourmand > Little Italy and Villeray
Practice your Italian in Montréal's Piccola Italia, a small yet charming part of the city. Attention foodies, this will surely be your favourite spot in the city as it's home to the Jean-Talon Market, the largest farmers market in the city (and one of the largest in North America). Stroll around the colourful stalls, taste some of the local produce and chat with animated vendors who will be more than happy to talk about their stock. This area is also home to some great Italian restaurants, pasticcerias (cannoli, anyone?) and half-a-century old cafés where senior Italian men meet to reminisce (loudly!) about the old country. A few blocks up is the Villeray neighbourhood, a family-friendly area chock-full of great eateries and bars, boutiques and lovely green spaces, like Parc Jarry, one of the largest and prettiest in Montréal.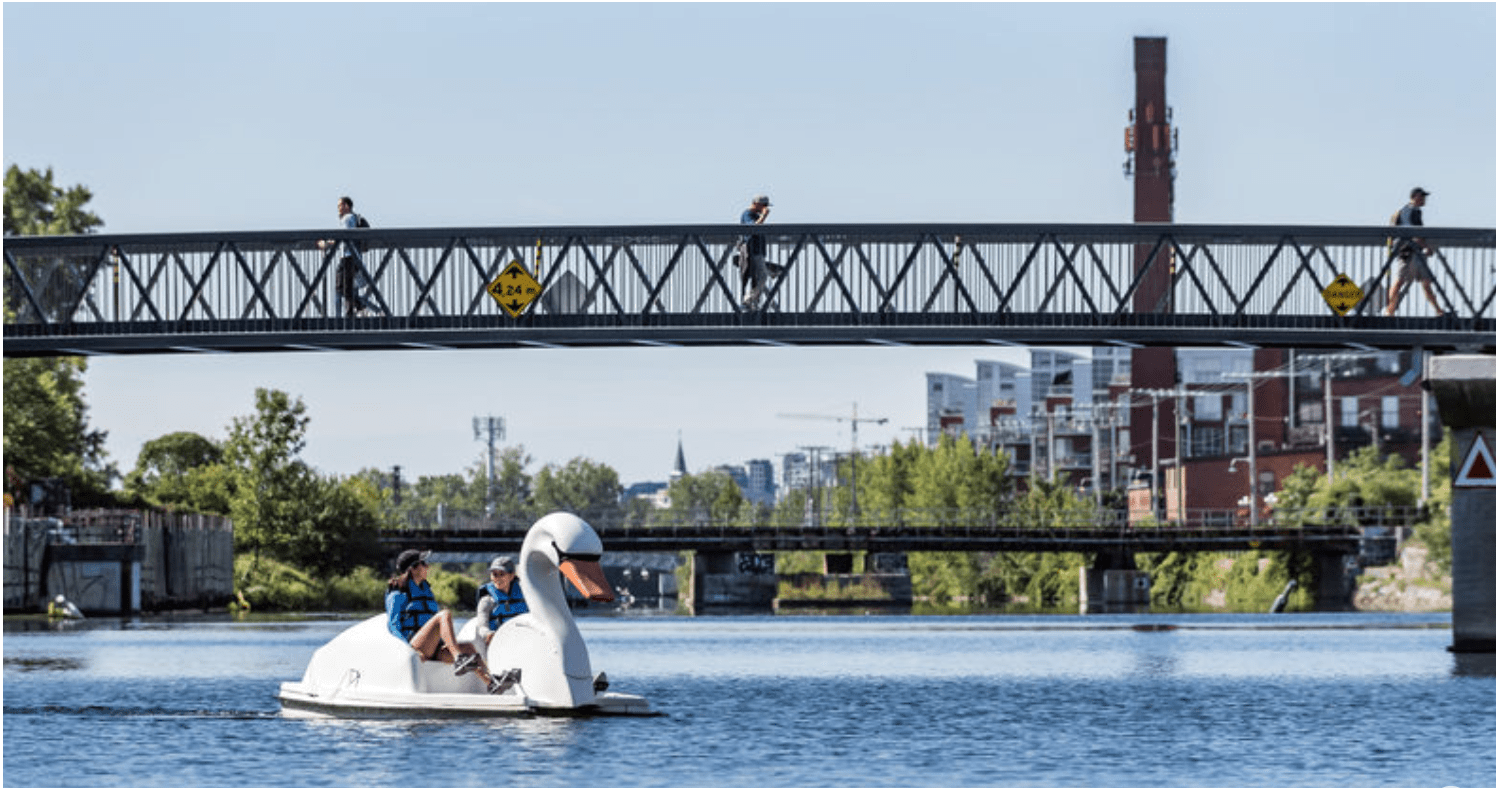 If you fancy the trendy life > Quartiers du Canal
All the handsome people are moving south to one of three southwest neighbourhoods that are rapidly becoming the trendiest quartiers in Montréal: Griffintown, Little Burgundy and Saint-Henri. These historically working-class neighbourhoods are brimming with architectural gems and beautiful green spaces. Take advantage of the area's prime location along the Lachine Canal to rent a kayak or canoe or to simply enjoy the pristine biking and running trails. Not a fan of physical activity? No problem! You can still enjoy the canal views from one of the waterside eateries or by strolling around the famous Atwater Market and its colourful stalls. The Quartiers du Canal are also where you'll find some of the hottest restaurants, bars, boutiques and art galleries in town.
If you enjoy island life > Parc Jean-Drapeau
Island life never felt so good! Parc Jean-Drapeau spans Île-Notre-Dame and Île Sainte-Hélène in the middle of the St. Lawrence River. This very lively park is home to some of the most entertaining festivities in Montréal. Adrenaline junkies will love riding the roller coasters at La Ronde, watching cars zoom by during the Formula 1 Grand Prix du Canada, dancing the night away at Piknic Électronik, or partying for three days straight at Osheaga (fringes a must). Aside from all the outstanding events, Parc Jean-Drapeau is the place to go to play and dine like royalty at the Casino de Montréal, catch some rays at Jean-Doré Beach, and get a little bit of culture in by visiting the Biosphère or getting a guided tour of the great architectural gem that is Habitat 67. And at the end of the day, there's no better spot to watch the sun set behind the city skyline or the fireworks light up the Jacques-Cartier Bridge.
Source: mtl.org